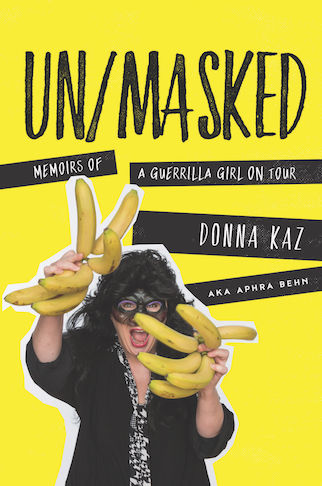 Donna Kaz was 24 years old when she moved to New York City in the fall of 1977 to pursue a career in theatre. She rented a spacious loft apartment on gritty Fifth Avenue in Chelsea and landed a job serving beers and burgers at the classic bar, Jimmy Day's, in Greenwich Village. She was on her way until a tall, blonde, handsome actor sat in her station during a lunch shift. That actor was William Hurt who swept Kaz off her feet and carried her to Hollywood and back for a three-plus year love affair that was both fantastical and physically dangerous. It took Kaz fourteen years to begin to admit she had survived domestic violence. Once she realized the extent of the abuse she had been subjected to she pulled a gorilla mask over her head and became "Aphra Behn," a bad-ass feminist, activist and member of THE GUERRILLA GIRLS.
About the Book
WINNER BEST NONFICTION PROSE DEVIL'S KITCHEN LITERARY FESTIVAL 2017
"UN/MASKED, is a vivid memoir of an eager, energetic woman of the theatre confronting sexism in love and art. It's also a rare first-hand account of life inside the famed Guerrilla Girls, those gorilla-masked artists and performers who made feminist protest daring, original and fun." – Katha Pollitt, The Nation Columnist, poet, essayist and author
"Fierce, funny and shrewd, much like the Guerrilla Girls themselves, Donna Kaz aka Aphra Behn has written a memoir filled with so much hope and frustration it's impossible to put down.  UN/MASKED is a page-turning how-to about changing the world, and the challenges therein." – Theresa Rebeck, playwright (Seminar), television writer (Smash) and novelist (I'm Glad About You).
"UN/MASKED is more than a wildly entertaining snapshot of 80s art culture. More than an answer to the question of, "Who were those crazy feminist activists behind the gorilla masks?" It is a generous, fearless, often hilarious coming of age tale that takes Kaz from being a victim of domestic abuse in Hollywood to becoming an artist and part of one of the most unforgettable art protest groups of our time." – Elissa Schappell, author of "Use Me" and "Blueprints for Building Better Girls"
"I loved UN/MASKED, by a woman with dreams that don't get realized but she makes her life work, no matter what, and tells her story with such honesty and clarity. An incredible achievement. It is unique, original and Donna Kaz/Aphra Behn is what Arthur Penn would say, somethin' else." —Estelle Parsons, Oscar winning actress
"UN/MASKED is a unique chronicle of an artist/warrior's journey through love, politics, creativity and violence, from someone who has lived through the social issues of our time. A compelling read and ride written in the voice of both an observer and participant of an engaging and relevant life." – Patti Occhiuzzo Giggans, Executive Director, Peace Over Violence
"In alternating chapters and eras, UN/MASKED divulges a Guerrilla Girls' secret lives. In the '70s Kaz/Behn's public identity was that of a struggling actress and girlfriend of a famous Hollywood star, while privately she was a victim of domestic violence, chillingly addicted to her life-threatening relationship. Two decades later she began a nineteen-year career as an activist with the clandestine arts gender-justice warriors The Guerrilla Girls, granting the reader a security pass into a mysterious and renowned revolutionary arts secret society. A compelling and page-turning read, and a testament that fighters for fairness and justice are not born: they are made." – Kia Corthron, playwright
"UN/MASKED is a rollicking ride of a memoir. Donna Kaz aka Aphra Behn takes us from Hollywood to Broadway and back with some wonderful twists and turns of real live feminist activism in between. UN/MASKED is a 21st century artist turned activist success story for the rest of us." – Kate Bornstein, author of A Queer and Pleasant Danger
GUERRILLA GIRL UNMASKED IS "…a memoir of a time, not so long ago, when feminism was aspirational. It was a precarious place to be, and one Kaz looks back on with rueful maturity. UN/MASKED is honest…reveals the collaborative nature of theater with gusto." – Women's Review of Books