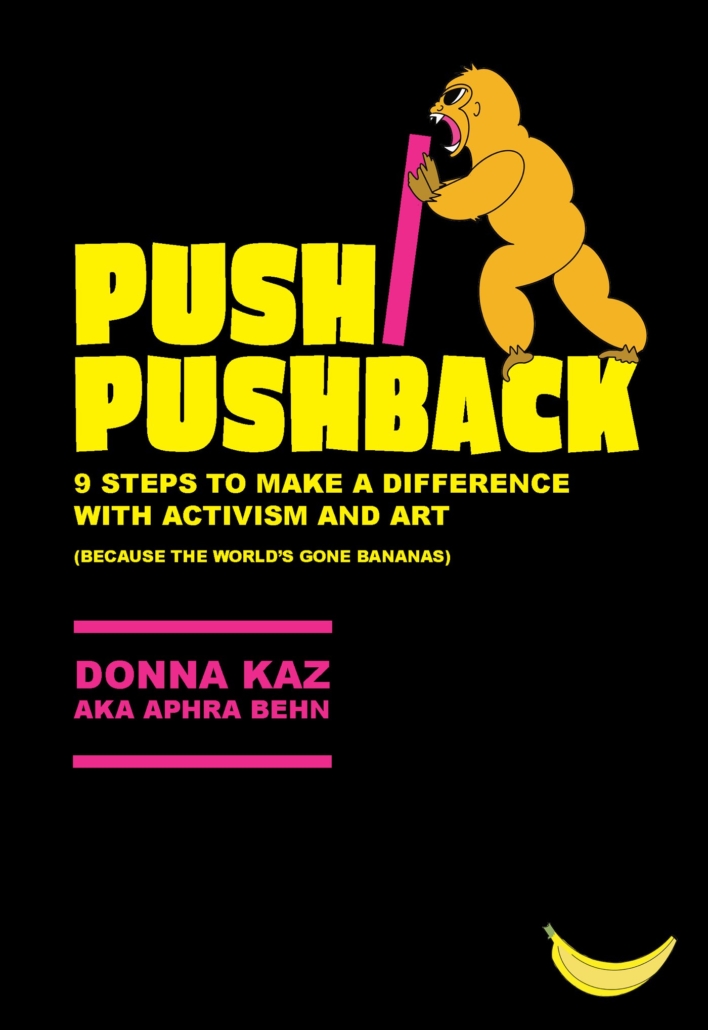 ACTIVIST BOOK: PUSH/PUSHBACK, 9 Steps to Make a Difference with Activism and Art
Black lives matter. Women's rights are human rights. No human being is illegal. Science is real. #MeToo #Timesup Love is love.
These are just some of the current slogans you can find on t-shirts, posters, in headlines, and trending on social media. Today, we all face a myriad of social justice issues: climate change; unemployment; food security; gun violence; homophobia; racism; gender equality; Islamaphobia; transphobia; poverty; war; immigration; government accountability; Trump. If you feel overwhelmed and helpless this book is for you.
THE STORY BEHIND the ACTIVIST BOOK: PUSH/PUSHBACK: 
On November 1, 2016 my book, UN/MASKED, Memoirs of a Guerrilla Girl On Tour, was published. On November 8th , Donald Trump was elected the 45th president of the United States. Two days later I had a reading and book signing scheduled at Blue Stockings Book Store – a clearinghouse for radical ideas on the Lower East Side of Manhattan. During the Q and A, every question focused on understanding how one could push back against a president they feared would threaten their rights and the rights of others.
Since November 10th I have not seen a let up in people's need for information about how they can effectively participate in creating change. I have traveled from Montana to Decatur to Portland to Patterson and points in between speaking about how I, as and activist member of Guerrilla Girl and Guerrilla Girl On Tour have used my creativity and wit to make a difference. If you feel the election of Donald Trump has made you think about ways you can make a difference and get involved then PUSH, PUSHBACK is for you.
I believe that most human beings are born with creative DNA, are pissed off about something and are searching for a way to change the world, PUSH, PUSHBACK is an insiders look at what went behind the posters, protests, fax blitzes, speak outs and street theatre actions the Guerrilla Girls used to attack and expose sexism and racism in the theatre world and beyond. It uses my personal stories from the front line of activism to formulate a step by step guide to the art of collaboration: how to huddle up, gather evidence, tap into your own expertise to generate ideas, use humor, be intersectional, fund projects, ensure response and guarantee momentum. It shows how personal storytelling can weave together the fabric of a movement designed to effect change.
I admit, it is frightening to feel you have no control. I have heard many people express their own powerlessness as they face threats to their rights and the rights of those they support on a daily basis. Perhaps you agree there is a need to understand how to organize and see results, on a local level. Maybe you search for activist knowledge and are hungry for something to guide you through the steps of creatively supporting a cause. The Activist Book, PUSH/PUSHBACK, will fill that need.
As a Guerrilla Girl and Guerrilla Girl On Tour, I created collaborative work that was used to address specific social issues effecting women and people of color. Coming from a theatre background, I was used to making collaborative art. The Girls were grassroots, ad hoc, unorganized and messy. We were also focused, funny, full of energy and fresh creative ideas. I wrote this book to share the tactics I used as a Guerrilla Girl and Guerrilla Girl On Tour. In it, I encourage everyone to copy the "Guerrilla" style, use the tactics that work for you and toss the rest. I remind all readers that the hardest part of making activist art directed at one issue is following through and sustaining momentum.
Let's face it. The world's gone bananas. But we got this. Let's push back and make it right again.
Inspiring, insightful, hilarious and fun – PUSH/PUSHBACK challenged the audience to think about how misogyny and sexism infiltrate the arts and left us with ideas about how we can use activism and art to change the world. – Missoula Art  Museum
I just learned how to better be an activist," junior graphic design major Harland Reid said. "I thought PUSH/PUSHBACK was fantastic; Aphra Behn was an excellent speaker. I could tell she had a ton of depth and levity to her story." – Bradley University Scout
NOTE: In addition to being an ebook, PUSH/PUSHBACK is an interactive lecture. For more information on that click here.